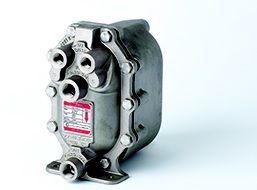 The APT has been designed to remove condensate from steam heat exchangers and process plant under operating conditions, and forms an integral part of the condensate removal process.
The compact unit operates like a steam trap, but switches to an active pumping mode if the system pressure falls below the total back pressure (stall conditions).
Spirax provides two options.
The APT10-4.5 is available for loads of up to 1,500 kg/h and the APT14 / APT14HC is for loads of up to 9,000 kg/h.