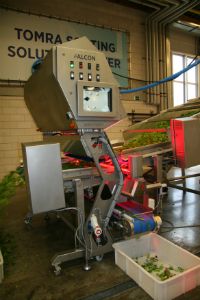 TOMRA Sorting Solutions will unveil its new Falcon sorting machine to the US market at United Fresh 2015 from 8-10 June.
The company will be exhibiting at booth 2332 at the McCormick Place Convention Center in Chicago.
The Falcon, a cost-effective pre-sorting solution for the fresh cut industry, was launched to the European market in 2014. It has already secured one of Europe's leading lettuce producers as a client.
The pre-sorter was designed to remove unwanted material brought onto the production line from the field such as rodents, bugs, plastic, wood, soil clumps and stones.
TOMRA sales manager for the Americas and Oceania Karel Strubbe said: "The Falcon facilitates the removal of most gross defects at an early stage by analysing the biological characteristics and chlorophyll levels of each item passing along the processing line, allowing the sorters further along to work at a higher efficiency rate and boosting final product quality.
"The compact design of the Falcon means it can be easily integrated into existing production lines, and processors will like the easy-to-use interface, open design for cleaning and maintenance and low cost of ownership."
United Fresh, one of the industry's major events of the year, is co-located with FMI Connect 2015 and the International Floriculture Expo. It brings together retail, fresh produce and floral leaders searching for unique products and looking to enhance relationships with valuable business partners.