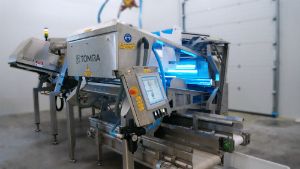 TOMRA Sorting Solutions has installed a new cold room in its test and demonstration center in Leuven, Belgium.
The company can test the performance of its sorting machines for all individually quick frozen (IQF) products in a true-to life environment.
The conditioned room can accommodate two sorting machines at the same time, enabling parallel testing and comparison. It features an indirect cooling system, fully controlled automatic access doors and LED lighting.
TOMRA Sorting Solutions sales application manager Wim Van Doren said: "Defrosting, sticking of the product and changing defect conditions are known issues when testing IQF products.
"Normal operating temperature in IQF production facilities is around five°, but we can set our cold room as low as -2°.
"Our investment in this cold room allows our customers to see the sorting line in realistic circumstances and they can see first-hand the capabilities of our machines operating in these severe conditions."
TOMRA can test its machines in a hot climate using special heaters to warm the room from its standard -2° to 60°.
The room is attached to the company's existing test and demonstration hall by glass windows.
An entrance is provided along the current demo center and the back of the room has a large roll up gate, which allows large sorting machines to be moved in and out easily.
TOMRA's new cold room will be managed by Wim Van Doren's demo team, and will also be used by other departments such as R&D.
In June 2014, TOMRA Sorting Solutions installed the first cold room in its state-of-the-art facility in Sacramento, US.
TOMRA Sorting Solutions runs fifteen test and demonstration centers worldwide providing services for the development of sensor-based sorting projects for the food industry.
Six of the fifteen sorting solution centers solely focus on food with each providing different testing possibilities.
For the North American market, TOMRA can invite customers to one of their two test and demonstrations centers in the US, located in Denver, Colorado, and Sacramento, California.
In Asia, TOMRA also has two test and demonstration centres available, located in Saitama, Japan and Xiamen, China.